Maslow's Hierarchy of Needs in Education – Strategies for eLearning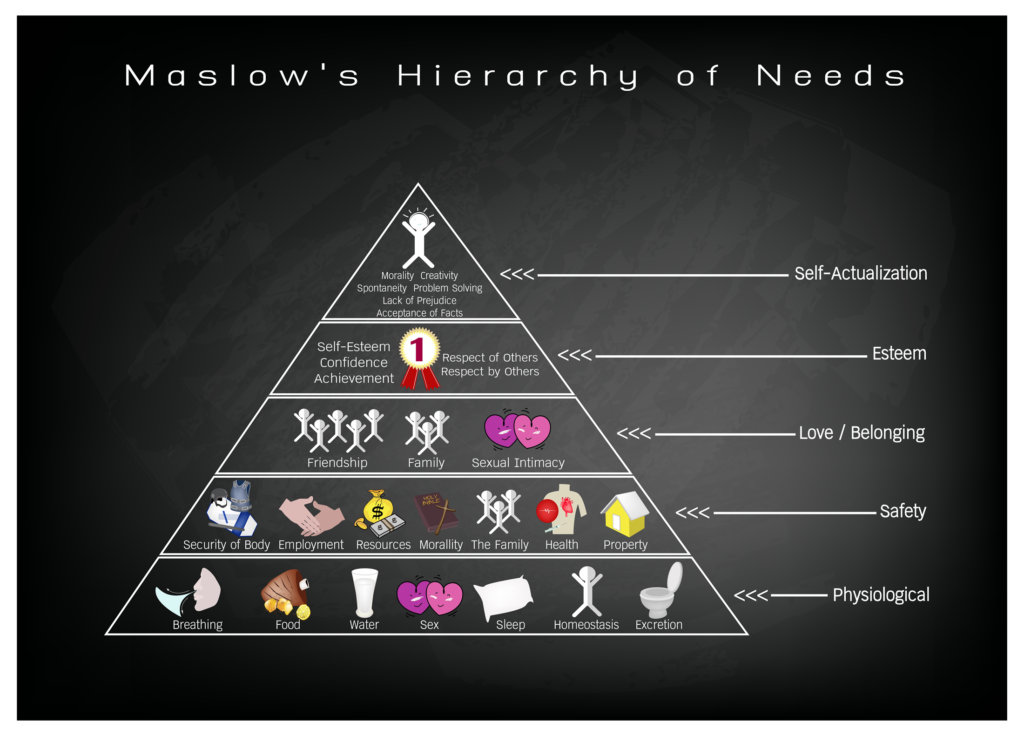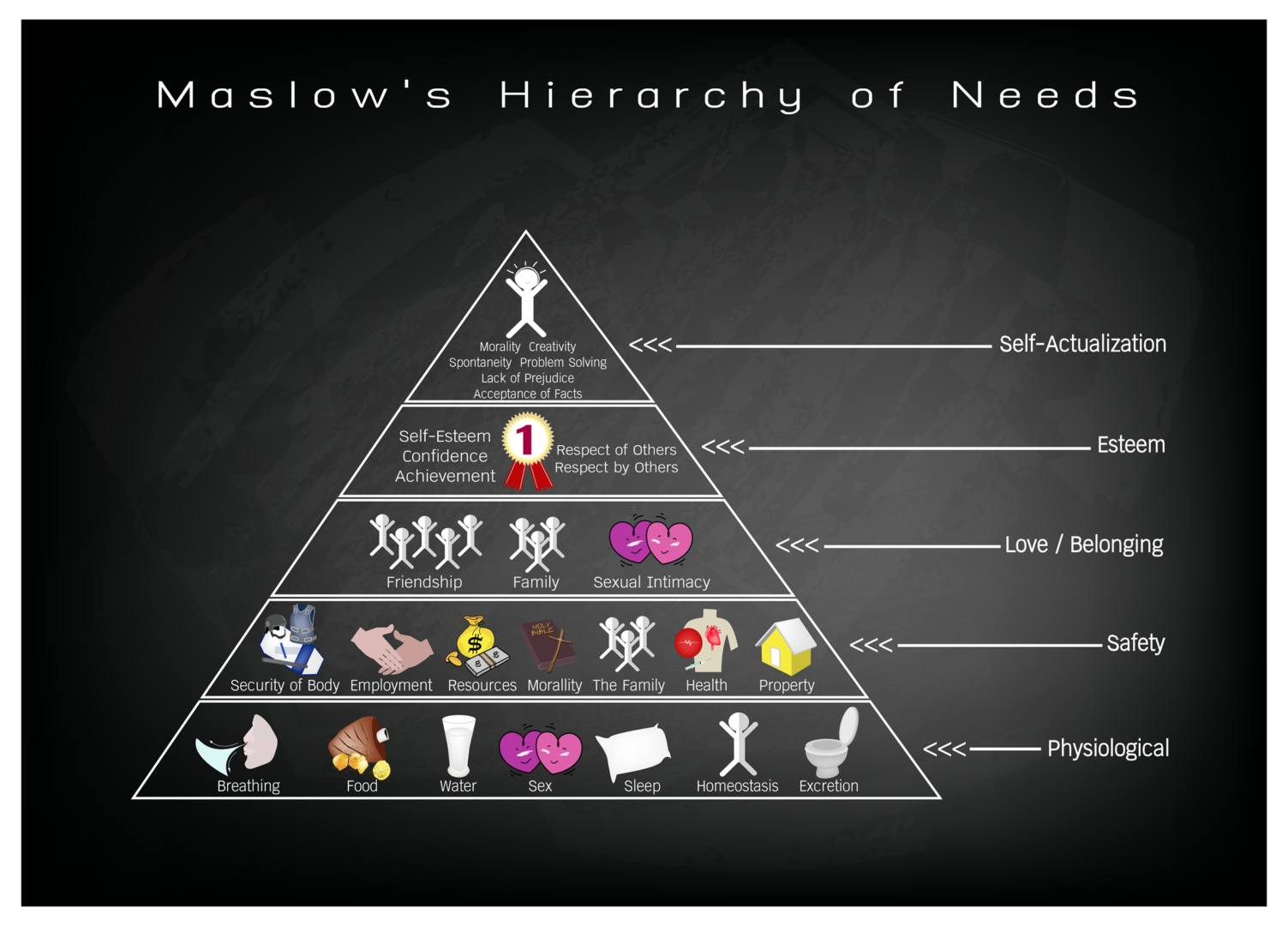 Designing highly motivating learning experiences is the challenge that most instructional designers and educators face. After all, each learner has different goals, desires, needs and preferences as we discussed in the post "Different Learning Styles – How to Design Learning to Accommodate our Learners". In this post, we will be examining Maslow's Hierarchy of needs in education and some strategies for eLearning.
Types of Motivation
Motivation can be either intrinsic or extrinsic.
Intrinsic motivation refers to internal drivers. For example, learners take the course because they enjoy it or because they want to develop a particular skill. This is the type of motivation you should aim for when creating your courses.
Extrinsic motivation refers to performing activities to get something in exchange such as monetary rewards, certificates or good grades.
Maslow's Hierarchy of Needs
The psychologist Abraham Maslow explained motivating forces by placing them within what he called a "hierarchy of needs". According to Maslow, we are motivated by what we need.
Our basic needs (food, water and survival) are the most important. Once we have satisfied these, we can concentrate on needs at the next level and so on.
What is the relationship with learning?
We lose motivation when we don't see the benefit of the training. Maslow's Hierarchy of Needs relates to online learning, in the sense that successful training should be designed with the question in mind "what's in it for me?"
If learners don't know the reasons and the benefits, they will start with the wrong foot and will become unmotivated.
How would Maslow's Hierarchy of Needs relate to online learning?
Maslow's Hierarchy of Needs relate to the online learning environment as follows:
First Level: Physiological
In the online environment, there are several fundamental elements and tools students must have access to in order to meet
their first-level needs, such as books and materials, appropriate software and a computer with Internet access. Without these basic resources, students will not be able to achieve higher levels of satisfaction in Maslow's hierarchy.
Instructors in the virtual classroom have an important role to play in ensuring students' basic needs are met prior to the course start date. For example, they can offer a face-to-face orientation for those learners new to online learning).
Other resources to help learners cover this level are:
Create a syllabus with the relevant information related to the course.
Organize a pre-course to teach how to use the technology, materials, and procedures.
Offer orientation in the distance mode in which learners will participate. Orientations are an effective strategy to help learners complete the online learning experiences.
Numerous online learning programs, offer an online orientation for eLearning. Such online orientations allow learners to participate as much or as little as needed and focus only on areas where they need help and they are often held both synchronously and asynchronously, using video, audio, chat, and web-based platforms to provide help as needed. This orientation can be optional so learners used to the online environment can skip it and move on to the training.
Once, I participated in an online orientation course and the facilitator created for the students a forum where we introduced ourselves and discussed our expectations for the course. This orientation helped me to feel more comfortable with the course, the technology, my peers and the instructor.
An online orientation can also be the perfect place for an icebreaker activity as we discussed in "Icebreaker Activities in Online Classes".
Second Level: Safety
Students' unfamiliarity with the online classroom is one of the most significant stressors in eLearning. 
The instructor can play a significant role in establishing a comfortable climate for students. One way of helping students feel safer and reduce their anxiety is by giving them ample time to digest information and respond to posts, activities and upload assignments.
Another way to help students in this level, is to arrange early access to the course. Let's say, have a week "0" of the course where students can go, read all the resources, see what the activities are and prepared with more time for the first week of the course.
Additionally, you can create a technology-based course with educational videos to teach students how to navigate and use the different functionalities of the learning environment.
Third Level: Relationships
In an online course, students have opportunities to develop relationships with one another and with the instructor through dialogue and collaborative activities.
Multiple factors influence a student's experience with respect to collaboration in the online classroom. One of the most apparent is the need to establish a meaningful, collegial relationship with the instructor.
Instructors must rely primarily on discussion board postings, e-mail, and feedback on assignments as a means to communicate with students, and vice-versa. However, all these tools, if used appropriately, can lift instructor presence, permitting the building of strong rapport.
Just as significant as the student–instructor relationship is the relationships among peers and the community of learning. We have previously discussed the importance of learning communities to engage learners in "Online Learning Communities".
Students in an online course have the ability to interact with one another through venues such as discussion boards and group projects. To fulfill the third level in Maslow's need hierarchy, students must know what they are expected to do in order to build a sense of community with their peers.
Fourth Level: Self-Esteem
Students in the virtual classroom can feel undervalued due to a variety of circumstances. Self-esteem and a sense of value cannot be attained in the absence of a foundation of a strong community of learning and collaboration.
Students who lack familiarity with an online course setting may feel apprehensive, causing them to have a lower sense of
self-esteem and self-efficacy/confidence in the course environment. Such students will, perhaps, delay their responses to discussion board postings (waiting for others to post before they do), and hold back on initiating dialogue with peers because they are unsure of how they should operate in the environment.
Factors such as course preparation, positive reinforcement and quick and responsive feedback all play an important part in supporting students and helping them feel valued, respected, and appreciated. Instructors should strive to:
Clarify goals and assessment requirements and provide examples.
Provide students with opportunities to continually self-assess their progress and understanding.
Supply descriptive feedback and reflective comments to students when possible.
Also, instructors should take steps to foster a climate of inclusiveness to all learners. For example, be willing to learn from your students, their experiences, be flexible, give up some control to your students, promote collaboration and facilitate.
Our new role is to be facilitators rather than transmitters of information.
Fifth Level: Self-Actualization
Intrinsic learning is the ultimate goal of all education, including adult education, because it involves the processes which can help people become all that they are capable of becoming.
Self-actualizing people are described as those who listen to their own voices, take responsibility, are honest, and who work.
The instructor serves an important function in supporting students as they strive for self-actualization.
In the online classroom, the role of the instructor is to assist learners in managing their own learning and support them for their individual growth and self-actualization.
Some activities the instructor can do to help students cover this level are:
Use of various strategies, resources, and tools to help students visualize and get a better sense of self.
Guide students to connect with resources that will assist with the fulfillment of their individual needs and goals.
Help learners develop self-study and time-management habits.
Help online learners develop schedules, techniques for completing work, and skills needed for successful completion of an online course of study.
First-time online learners should be helped to manage their time, develop a study schedule, and set up routines and procedures by which to accomplish their online work.
Help your learners increase their skills in evaluation, self-assessment, problem-solving and, where needed, enhanced reading comprehension, writing, and technology skill.
In Summary
The psychologist Abraham Maslow explained motivating forces by placing them within what he called a "Hierarchy of needs". According to Maslow, we are motivated by what we need.
Creating a course that motivates all learners is nearly impossible. However, certain aspects of motivation must be considered to ensure the effectiveness of course design.
Using Maslow's hierarchy of needs model as a conceptual framework, that we have used in this post to evaluate students' needs in the online environment and to identify strategies to help them achieve that level of needs.
To maintain your learner's focus and motivation you should:
Empower the learner.
Inspire the learner.
Visualize the learner's perspective.
Use effective communication.
And remember to guide your students so they can become more self-aware and learn how to manage time, develop study habits, assess their progress and be resourceful to find proper solutions when they encounter a challenge in their learning journey.
What other strategies do you identify to help our learners? Feel free to leave your comments below.
See you next time,
Thais 🙂
References
Burns, M. (2014). 10 strategies to help online learners complete an online program. Retrieved from https://elearningindustry.com/10-strategies-help-online-learners-complete-online-program
Milheim, K. (2012). Toward a better experience: examining student needs in the online classroom through Maslow's hierarchy of needs model. Retrieved from http://citeseerx.ist.psu.edu/viewdoc/download?doi=10.1.1.892.4995&rep=rep1&type=pdf