Podcast and Training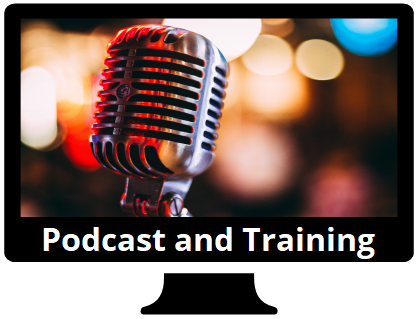 Podcasts are significantly growing and only on Apple Podcasts there are confirmed over 750,000 podcasts (Discover Pods, 2019). According to Podcast Insights, comedy is the most popular podcasting genre, followed by education and news. That's why there is a big potential with Podcasts and training solutions.
I am personally a big fan of podcasts and I am always listening to them while I'm on the bus, or taking a shower, or going for a walk. It is a very easy way to take new knowledge and keep learning about almost everything while you are doing another activity.
I must confess that I almost stopped listening to music because I found so many podcasts of my interest that I'm always busy catching up with new episodes.
In this post, I will explain what a podcast is, the benefits for training solutions, how to include podcasts into your eLearning projects and I will also share my favorite podcasts.
What is a Podcast?
A podcast is an audio file that users can listen to from any device connected to the Internet. The audio files are hosted in specific
platforms like Spotify, Apple Podcasts, SoundCloud and others, or they can simply be hosted in websites.
Generally, a podcast is not only one audio file but a series of audio files about a particular topic. For example, finance, well-being, meditation, art, movies, etc. In some of them, the host of the podcast can invite guests to have conversations or interviews, or it can be the host alone explaining a topic.
The majority of podcasts have a conversational tone and are simple in nature.
To create a podcast you basically need to ensure a good sound quality and great content to keep your audience engaged. Additionally, you will need an audio editing tool and you could also outsource a freelance to create for you a clip to serve as a musical introduction that will distinguish your podcast.
Benefits of Podcasts for Training
Podcasts are easy to produce, they don't require expensive technology or special expertise. If you or your organization have something to say then it should be easy to record podcasts about different relevant topics. Remember to keep each episode focused on one particular subject.
Podcasts can be easily accessible to employees or your audience from the organisation's website or any other audio platform.
Users can listen to podcasts while they are doing another activity.
Some users don't like to read long texts or communications you might share on your website, but with podcasts you can offer an option to stay up to date with the information and even learn more if you have special guests coming to your podcast to explain in depth certain topics relevant to your business.
Podcasts are an informal form of learning where users consume the content without feeling pressured about assessments.
Podcasts are an ideal way to convey an important message in a conversational and friendly tone which will make your audience feel more comfortable with your podcast and can increase their engagement.
Podcasts offer a different way to share content with your audience that can also be easily integrated with eLearning and social media platforms.
How to Blend Podcasts with eLearning?
There are different ways to incorporate podcasts into eLearning.
If your organization already has its own podcast, you can use a particular episode that reinforces a topic you want to include in your eLearning project.
A good and simple way to add the podcast could be to clip the key messages and include an audio file into your slide. Normally, organizational podcasts would have a manager, a specialist or a guest speaker to share some information. Having those real voices from relevant speakers with important messages for the organization are gold for your eLearning project.
You could include in your slide the photographs of the people participating in the podcast, the audio clips and let learners play each audio as they click on the photographs. The messages should be related to a particular topic or question to make the eLearning module meaningful.
Another way to make use of podcasts is with a blended approach where learners do their online courses before or after listening to the podcast and the content of the course is highly related to the podcast so both forms to deliver the information can work together to reinforce the knowledge in your learners.
You can even include in your eLearning modules some questions about what was discussed in the podcast or use scenarios from situations commented on the podcast.
Podcasts I Follow
I mainly use Spotify on my mobile phone to listen to the following podcasts:
Professional interests:
Podcasts in other areas that I like are:
Optimal Finance Dialy.
Afford Anything.
Optimal Business Daily.
In Spanish: Libros para Emprendedores.
In Spanish: Bitcoin en Espanol.
Optimal Living Daily.
On Purpose with Jay Shetty.
The Mindful Kind.
In Spanish: D'mente Positivo con Ismael Cala.
In Spanish: Vibras.
In Spanish: Nos Reiremos de Esto!
In Spanish: Erika De La Vega – En Defensa Propia.
In Summary
With good content that flows naturally, using a conversational tone and ensuring a good sound quality you can create your own podcast and convert some of that useful information into clips to embed in your eLearning modules.
This is a great way to include some fun dynamics into your eLearning modules by adding a multimedia element, presenting real characters from your organization, special guests or presenters from other podcasts that have something important to say that is relevant to your training projects.
And if don't want to include podcasts directly into eLearning, still they are a good way to share information to your audience that will access the content while they do something else, such as driving home, cooking, organizing, walking, doing exercise. The flexibility of this type of media will engage your audience even more with your business. And remember, the more you publish new episodes, the more engagement you'll have.
Would you use podcasts for training? If so, which podcasts would you include and why? Leave your comments below and thanks for visiting.
Till next time
Thais 🙂
References:
Discover Pods. (2019). Podcast Statistics & Figures 2019. Retrieved from https://discoverpods.com/podcast-statistics/
Techspective. (2019). The value of using podcasts for employee training. Retrieved from https://techspective.net/2019/02/10/the-value-of-using-podcasts-for-employee-training/