A SharePoint Site for Training – Review of LMS365, a Learning Management System that Office 365 users will Love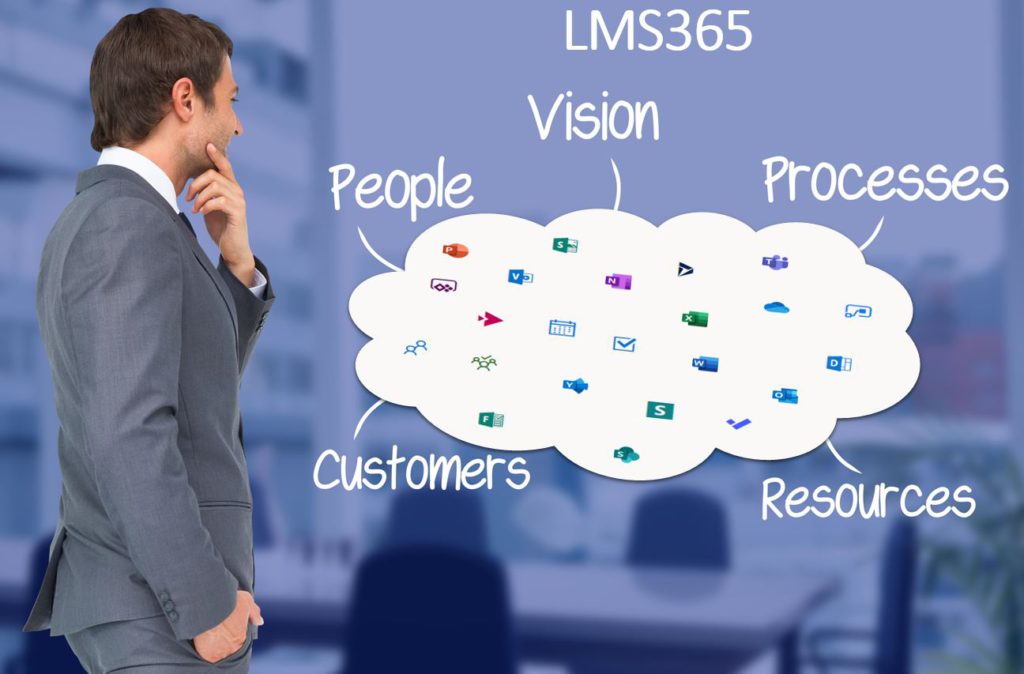 In my post "Office 365 – Ideas to Use it for Learning and Development Activities", I shared some ideas about how to use the tools of Office 365 to organize training activities and even to deliver courses. I am fascinated by all the functionalities and possibilities with all these Office 365 tools, that I had to keep investigating and exploring more, and I found that it actually exist a Learning Management System associated with Office 365, LMS 365 😀
In this post, I will do a review of a SharePoint site for training, LMS365, a Learning Management System (LMS) that Office 365 users will love.
What is LMS365?
LMS365 is a SharePoint dashboard, similar to the normal SharePoint sites you can create, but in this case it has different functions ready to run your training activities or to deliver training to a team.
With LMS365 you have:
Different forms of assessments such as quizzes.
Learning paths which are great to define specific training needs for the different roles in an organization.
Management of documents, media.
Communication channels for social learning (forums, chats, discussion boards).
Webinars.
Workflows for users and instructors.
Acknowledgment activities that are useful when you need to ensure users have read and understood policies or specific documents.
Analytics, customizable reports.
Course certifications.
Personal progress dashboards.
Online course catalogs.
Different forms of enrollments such as self-registrations, waiting lists and by invitations via email.
Notifications.
SCORM compliant or you can import other formats too.
Lots and lots of functions on autopilot and with an environment that is easy to use because it is a SharePoint, something familiar built with the same look and feel of the other Office 365 tools.
The Good
If your organization is already using Office 365, then embedding this LMS will be a smooth process. Your users will feel like their normal Office 365 has upgraded to have training capabilities inbuilt in their normal Office account.
It has all the good functions of any other LMS but your learners won't feel like they have another system. Everything will be in place.
Lots of cool features for creating different types of courses, not only SCORM packages, but you can create blended learning solutions, social learning, webinars, face-to-face, etc.
Competency planning functions to organize your team, job roles, learning paths, competency gaps.
Users of LMS365 around the world share their own automated processes created with Flow and you can use these templates to adapt them to your own needs.
It is the perfect SharePoint to organize all your workforce into one place while having all the good things from Office 365.
The Bad
It can get expensive so try to make sure you negotiate with the vendors a good price for your organizations based on the number of users you are planning to have registered.
The good thing is that they have special offers for educational institutions and non-profit organizations 😀
Who is LMS365 for?
This SharePoint solution would be the perfect fit for organizations that already use Office 365 and would like to have better management of their workforce with training and career planning.
I would also use this LMS with educational institutions or non-profit organizations that would like to have an easy to use platform to manage all the training and educational needs while been part of the educational community of Microsoft which has certifications and different online courses packed with many cool ideas about how to use all these tools for the classroom.
If you are already using Office 365 tools but you have a small team or your organizations is really small, then I would try to recreate some of the ideas and automations that LMS365 has with the tool Flow and the other applications of Office 365 has explained in my previous post "Office 365 – Ideas to Use it for Learning and Development Activities".
LMS365 Tools, Training & Support
The LMS365 team has a cloud publication center where you can find manuals and documentation to help you in using this platform. You also have telephone support or you could submit your request through their website.
They also have in their site an "Idea Platform" where their users share ideas about different uses of the platform or this place is useful for customers to submit their wish list that is addressed by the team.
With LMS365 you will find other tools that have partnered with them that you will love if you are already using Office 365. For example, LMS365 has partnered with Storyals to help organizations transition to a modern and digital workplace. They have videos showcasing the uses of Office 365 in real contexts.
Another partnership is with ClipTraining which has really small learning or micro-learning clips to teach you how to use the tools with Office 365 and LMS365.
How much does it cost?
They have two subscription plans depending on the number of users. For an organization of around 5000 users, it can cost $10 per person per year. But I guess and organization of this size has the resources to afford this LMS.
Summary
This cloud based Learning Management System is the perfect fit for organizations who already use Office 365 and would like to move to a more modern and digital workplace by including in their solutions all the training and career development needs of the organization with the Office 365 platform.
LMS365 is a SharePoint platform with all the processes automated to help you manage your workforce, their training, progress, learning paths, certifications, enrollments and all their learning activities.
The users will have in one place all the tools to work in an organized manner while also having access to their learning tools to help them improve their skills at work. Having everything in one place will boost productivity and will help employees or users become the stars in their roles.
Also, you will incorporate social learning practices at its best when included forums and meaningful discussions about topics that are relevant to the workplace. The employees will not only engage in meaningful conversations, but they will also collaborate in the co-creation of policies, procedures or in the different projects the organization puts out there in the SharePoint site.
I think that by adopting these solutions, employees will engage more in learning activities without knowing they are actually participating in training courses, because all their contributions and activities will be embedded into the LMS365 and training site of things while also doing their normal work activities.
It is the perfect match between learning and work.
This is powerful for creative organizations that want to innovate, be modern and include their workforce into more active roles.
Would you give a try to LMS365? 😀
Thanks for visiting.
See you next time,
Thais 🙂