What is Heutagogy – And how it fits with Pedagogy and Andragogy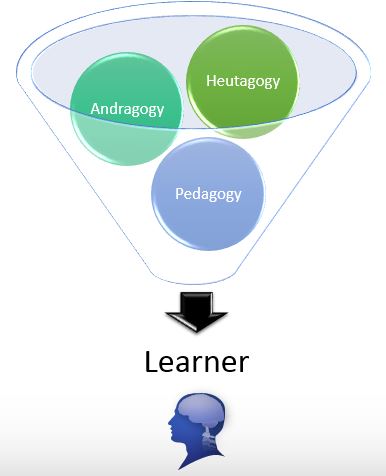 For learning to occur we need students playing an active role in their own learning process. I remember my years in high school and university being most of the times a passive learner, just receiving theory from an instructor standing in from of the class. But this passive approached has changed, and in this post I will be analyzing what is Heutagogy and how it fits with Pedagogy and Andragogy.
But first, let's start with the basic concepts of pedagogy and andragogy.
What is Pedagogy?
Pedagogy is the art and science of teaching. Educators use a range of teaching strategies because there is no single, universal approach that suits all situations and learners.
The use of different strategies used in different combinations, in the classroom and in the online environment, benefit students with a variety of learning styles improving the achievement of the learning outcomes.
Some strategies are better suited to certain fields of knowledge and skills, and some other strategies are better suited to certain students. The key is to combine strategies to cater for all the learners and for all the topics within the course or classroom.
Some traditional pedagogies I have used as a trainer was in a Spanish course. I used a kid's song in Spanish to teach this language to adult learners. They enjoyed the song, and the lyrics were easy to follow. They learned new vocabulary while having fun. Also, in the same Spanish course I played with students a bingo game to teach them the numbers, and I asked them to write a short paragraph of their daily activities in Spanish with the vocabulary and grammar lessons studied previously.
The role of educators in pedagogy is to offer a variety of learning strategies to engage all learners.
What is Andragogy?
Andragogy is a learning theory that is designed to address the particular needs of adults, and it is based on the idea that there are significant differences in learning characteristics between children and adults.
The concept of Andragogy was introduced by Malcolm Knowles in 1973, and is a learner-focused approach by nature. This theory is also known as "Self-directed" learning and its goals include helping learners develop the capacity for self-direction, supporting transformational learning and promoting "emancipatory learning and social action" (Blaschke, 2012).
This theory has the following 5 assumptions:
1. Adult learners are autonomous, independent and self-reliant.
2. An adult accumulates a growing reservoir of experience which is a rich resource for learning.
3. Adult learners are self-directed toward goals. They need to know from the beginning the objectives or goals of the training and these need to be relevant to their roles.
4. Adult learners are more problem-centered than subject-centered. They need to know why they should learn something and how it will benefit them.
5. Adults are motivated to learn by internal factors rather than external ones. Some factors that motivate adults are increased job satisfaction, self-esteem, quality of life.
Andragogy emphasize self-direction, flexibility and the process of learning rather than the content.
The role of the educator in an andragogical approach is that of tutor and mentor, with the instructor supporting the learner in developing the capacity to become more self-directed in his or her learning.
What is Heutagogy?
Heutagogy, is a term coined by Stewart Hase and Chris Kenyon on Sothern Cross, and is also called "Self-determined Learning".
In heutagogy, the learner is at the center of their own learning, which means, learning should not be seen as teacher-centric or content-centric.
The heutagogical approach recognizes the need to be flexible in the learning where the educator provides resources but the learner designs the curriculum by negotiating the learning. With this methodology, the learner has to go through a process of analysis, critical thinking and questioning to determine what is of interest and relevance to them.
The purpose of this process is for the learner to be equipped with the knowledge to negotiate further reading, learning materials and assessment tasks.
Additionally, in heutagogy the assessments are more a learning experience rather than tools to measure attainment.
As in the andragogy approach, in heutagogy the instructor also facilitates the learning process by providing guidance and resources. But the learning path process is owned by the learner, who negotiates learning and determines what will be learned and how it will be learned.
How does the heutagogy theory support the digital age of learning and assessment?
Heutagogy theory supports the digital age of learning and assessment in different ways. With the advances of technology directly impacting online learning, digital learning methodologies promote autonomy and a learner-centered approach which are completely aligned with heutagogy.
For example, with Learning Management Systems (LMS), learners have a higher degree of autonomy when choosing from a catalog the courses they consider relevant to them and their roles.
Other ways heutagogy supports digital learning is with assessments. Now, learners could easily go through a branching scenario or a virtual reality activity to practice and prove competency on particular knowledge.
Technology has made assessments a more learning experience rather than a passive event. Learners can now engage in forums, online quizzes with instant feedback or challenges through a gamification experience. All these strategies are aligned with heutagogy.
The Evolution from Pedagogy to Heutagogy
The heutagogical approach can be viewed as a progression from pedagogy to andragogy to heutagogy, with learners progressing as well, in maturity and autonomy.
More mature learners require less instructor control and course structure and can be more self-directed in their learning, while less mature learners require more instructor guidance and course scaffolding (Canning, 2010).
The Pedagogy Andragogy Heutagogy Continuum – The PAH Continuum
Building upon the evolution of pedagogy to andragogy and then to heutagogy, we have the PAH Continuum model.
The PAH Continuum is a tool that can help teachers design heutagogic strategies into their practice. The model is based on the following process:
Pedagogy: Start with a known subject, the delivery of which a teacher is confident with.
Andragogy: Negotiate with the learners how they might study that subject in ways that motivate them.
Heutagogy: Offer creative ways in which they might express what they have learned (Garnett, n.d.).
How could this model be used?
Some of the specific strategies that I could implement based on the PAH Continuum model are:
Let your learners define their own learning paths.
Encourage learners create a learning map with instructors serving as the compass.
Encourage learners negotiate how, when, where and to what level they want to take their learning.
Promote learners' participation in relevant discussions.
Let learners define assessments that include measurable forms of assessing understanding of content.
Include self-assessment methods such as rubrics.
In Summary
Technologies such as social media, Learning Management Systems, Machine Learning and eLearning are playing an important role in the practice of heutagogy. These technologies support a heutagogical approach by allowing learners to direct and determine their learning path and by enabling them to take an active rather than passive role in their individual learning experiences.
I think, heutagogy is not only being used for adult learners in university and the corporate training sector, but we can also see some heutagogy principles in children's education. For example, in Montessori schools, the curriculum offers a certain degree of flexibility where children develop their skills and knowledge, based on their preferred classroom activities, and the teacher focuses more on the child as a person rather than on daily lesson plans.
Finally, here you have learned a little bit more about the pedagogy, andragogy, heutagogy and how they can be part of a unique model of work with specific strategies that can be implemented using technology to enhance the learning process.
I hope you find this information relevant to your practice and hopefully you can incorporate more heutagogy strategies into your learning solutions 😀
See you next time,
Thais 🙂
References
Blaschke, L.M. (2012). Heutagogy and lifelong learning: a review of heutagogical practice and self-determined learning. Retrieved from http://www.irrodl.org/index.php/irrodl/article/view/1076/2087
Canning, N. (2010). Playing with heutagogy: Exploring strategies to empower mature learners in higher education. Journal of Further and Higher Education, 34(1), 59-71.
Garnett, F. (n.d.). The PAH continuum: pedagogy, andragogy & heutagogy. [Web]. Retrieved from https://heutagogycop.wordpress.com/2013/03/04/the-pah-continuum-pedagogy-andragogy-heutagogy/