SCORM Cloud – Review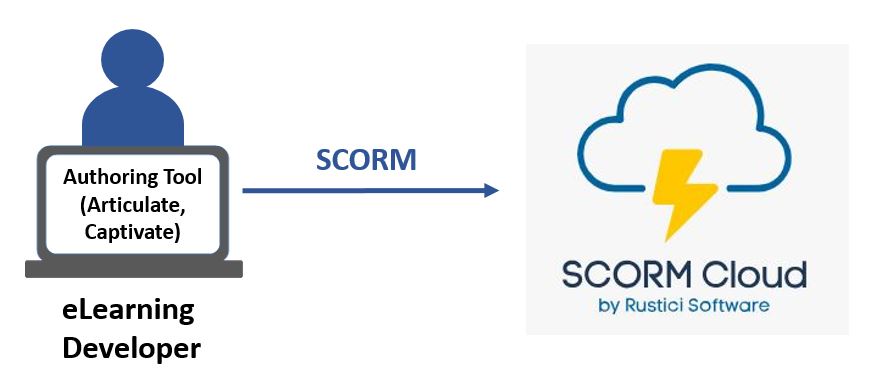 In this post, I'll do a review of SCORM Cloud. This is a tool I use almost every day for different purposes. I use it to test SCORM files and to deliver eLearning modules through websites. I also use it when I have limitations with my normal Learning Management System (LMS).
Sometimes I have to use SCORM Cloud to close the gaps I have with corporate LMS. This tool is ideal to solve problems. It is ideal to deliver eLearning modules for users who can't register to a LMS because they are contractors, casual employees or work under a temporary contract that doesn't include the provision of ongoing training through a corporate LMS.
SCORM Cloud at a Glance
Name: SCORM Cloud.
Price: For testing, you can use the free version. For distribution of eLearning they have different plans from $75 to $5000 per month depending on the number of registrations.
Owners: Rustici Software.
Overall Rank: 90 out of 100
SCORM Cloud Overview
SCORM Cloud could be considered as a Learning Management System to deliver online courses that:
Were developed using an Authoring Tool such as Captivate or Articulate and;
Were published as a SCORM file or any other format, such as different SCORM versions, TIN CAN or xAPI.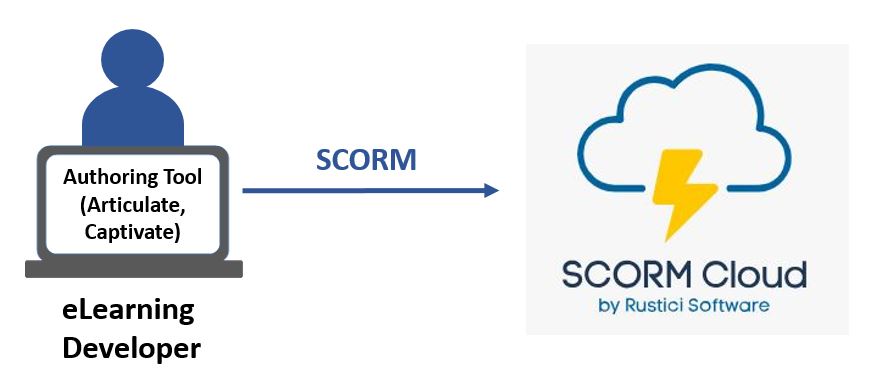 If you want to learn more about what SCORM is, visit my post "What is SCORM? – Understanding the Basics".
With SCORM Cloud you can also run different reports and analytics such as:
Track how many users completed training.
Progress status of learners.
Time learners spent doing the online modules.
When your learners do courses saved in SCORM Cloud, they will have a bookmarking functionality that will let them leave the course if they have to, and resume exactly where they left off. This is really helpful to promote eLearning to busy employees or students. You can tell them "hey you don't need to do the entire training at once, you can do one section at a time, progress slowly. The system will save your progress so you can come back later and continue where you left off".
With SCORM Cloud you don't need to install anything, because all the functionalities and the entire tool is cloud-based.
And you also have different ways to deploy eLearning. You can invite your learners via email by sending them an invitation from SCORM Cloud. You can also create a unique link per online module that you can share in your website or using your own email.
Dispatch Functionality
Other way to deliver eLearning using SCORM Cloud, is with a dispatch function where you create like a "mini" SCORM file out of the original SCORM you uploaded. This new SCORM file can be uploaded in your normal LMS. When users launch the course from your LMS, they are actually launching the file you saved in SCORM Cloud.
This dispatch function is really simple to use and lets your normal LMS communicate directly with SCORM Cloud to deliver training while maintaining the progress status of learners.
But you might be wondering, why do I need this dispatch function if I have a LMS in my organization? Well, let me tell you that sometimes the LMS you have in your organization might have some limitations such as the file size of SCORM files you can upload. Some LMS in the market have a limit of 50MB per SCORM file. So if your course is bigger than 50MB, you can't deploy it using your LMS.
A solution for this, is either change your course to reduce the size, which might translate in reducing the quality of pictures and videos. Or the other alternative, is to host your course in SCORM Cloud, activate the dispatch function for that SCORM, which will create a smaller SCORM file. Then put this small SCORM file in your normal LMS and that's it 😀
Your normal LMS won't complain about the big SCORM file, and when your users launch the course from the normal LMS, they won't tell the difference, the course will launch as it would normally.
The Good:
Not installation required. The entire system is cloud-based.
Really easy to use. Simply load your SCORM files and invite your learners or create an invitation (unique link) to deploy your eLearning solution.
Different plans for different needs.
Reporting functionalities.
Different ways to deploy eLearning.
WordPress plugin to deliver training using your blog or website.
The Bad:
I'm still trying to think of something bad, honestly. Every time I need something from SCORM Cloud, I get a solution. I guess the only thing I can think of, is that the free option allows up to 10 registrations, which is a little bit on the low side.
If you are testing a course and you need to register more than 10 testers or users, then you might have to enroll 10, let them do the course, and when they finish you would have to reset those registrations and enroll the rest of the users.
Who is SCORM Cloud For?
This product is for instructional designers or eLearning developers who need a sandpit or platform to test their courses before deploying into other LMS.
It is also for organizations who need to deliver eLearning through their websites or through their own LMS but they have certain technical limitations with their LMS. They can solve the gaps and technical problems using SCORM Cloud.
SCORM Cloud Tools & Training
Their website has lots of articles to help you. But the layout and navigation are so easy to use that I never needed any training. It is intuitive.
They also have this article, "Getting Started" with all the steps to use SCORM Cloud.
SCORM Cloud Support
They provide support via email, which in actually they respond with helpful tips. They also have in their website resources, technical documentation and a newsletter to stay current.
SCORM Cloud Price
There are different plans depending on your needs.
For testing, you can use the free version, and as I mentioned before, if you need to enroll more than 10 users to test your course, then let them complete the eLearning module and reset those registrations so you can enroll 10 more users. With the trial version your SCORM files have a limit of up to 100MB, which is not so bad.
For distribution of eLearning they have different plans from $75 to $5000 per month depending on the number of registrations. If this is not your main LMS and you only use it to deliver training for contractors and some particular users then, the plans "medium" or "big" would be enough ($150 – $300).
One thing to keep in mind is that each registration means a user who is enrolled in one course. If the same user enrolls in another online module, then that will count as another registration.
Using SCORM Cloud for Testing
SCORM Cloud is the perfect tool to test your SCORM files. If you buy a SCORM package from a third party, freelancer or an eLearning company, then it might be a good idea to test the SCORM files they sell before putting in it in your LMS.
To test the SCORM, you need to create an account in SCORM Cloud, with the free account is enough, then import your file, launch it, do the course and check the log files to see if there are errors.
I always test each SCORM file before uploading into the LMS I use to deliver eLearning. Even if it is a course I developed myself, I always test my courses just to make sure there are no errors that will affect learners when doing the module from my normal LMS.
Another way I test my SCORM files is by going inside the file "scormdriver" and changing the variable "DEBUG_ON_LAUCH" to "TRUE". By default, this variable is "FALSE". What this variable does is to launch the debug file of the SCORM when the course is launched.
Then, I save the SCORM with that modification, upload it into SCORM Cloud and launch it.
When the course starts, it will also open the debug file where I can read everything that is happening behind the scene between my course and this LMS. The idea here, is to look for possible errors that might affect the course in run time.
You can save the debugging file and then search for the terms "Error" or "strSCORMErrorDiagnostic".
If you see something that doesn't look right, then you can send an email to SCORM Cloud support or search for the error code in their website to get some hints and possible solutions about it. Alternatively, you leave your comments below and I'll be more than happy to help you track the issue.
Advice when Testing SCORM files
If you see in your log file a line that indicates something like "strSCORMErrorDiagnostic exceeded the number of characters of 4096 characters". It means that your eLearning course will have issues when running in your LMS. You might find messages such as:
Additionally, you will find bookmarking issues and the course might get too slow and hard to progress through the content.
If you have this problem, my first advice is that you go in your authoring tool, for example Articulate Storyline, and change the parameters of each slide, as shown in the image below. Try to change this is all of your slides, or at least in the majority. Then save, export in SCORM1.2 and test again. You shouldn't have this error anymore.
What happens is that each version of SCORM has its limits in the number of characters it can have:
If you exceed that number of characters, then your eLearning course will have lots of technical difficulties when running from the LMS. Another way to fix this issue is by exporting your course using another format that allows more characters, like SCORM 2004 4th Edition. However, be mindful that not all LMS take this format. So first, check with your LMS documentation what format of SCORM it can take.
Delivering eLearning Through a Website
Another option to deliver your eLearning module is by uploading it to SCORM Cloud and then creating a public invitation which will give a unique link for that module. Put that link into your website and your visitors will be able to launch the course from that link.
If you have a blog built in WordPress, you can install the SCORM Cloud plugin for WordPress. You can find more information about this procedure here.
And finally, for Moodle users, they have the option to install the SCORM Cloud module that will let them use this tool with their LMS. More information on this methodology, here.
My Final Opinion of SCORM Cloud
As you can see, I have a lot of faith in this product. I really trust in SCORM Cloud, as a tool for testing and closing those gaps in delivering eLearning that sometimes, I find with other Learning Management System.
I have been using this tool since day one in my journey of developing eLearning and I consider SCORM Cloud as part of my essential tools in my work. I think, you should create your free account and start testing the eLearning modules you are developing to get familiar with the different functions.
I hope this post provided the information and tips you needed about SCORM Cloud and how to test your SCORM files.
See you next time 🙂
Thais