Office 365 – Ideas to Use it for Learning and Development Activities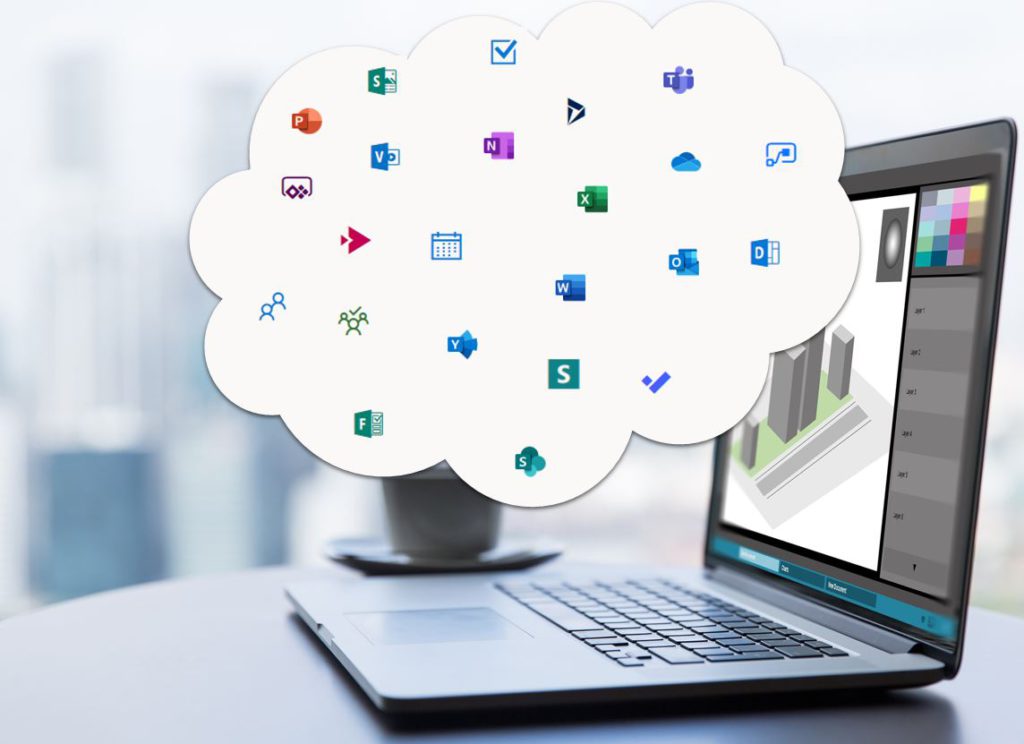 I consider myself to be an organized person, and I can say that with Office 365 I have found the platform to keep my work organized with so many cool tools that can be used for learning and development activities. In this post, I will tell you how Office 365 can be used for training purposes.
Stay with me and let's see the many possibilities you have with Microsoft products.
What is Office 365?
Office 365 is a cloud-based suit of products that Microsoft offers to users by subscriptions. It includes tools we are familiar with such as Word, Excel and PowerPoint.
The beauty of this platform is that you don't need to install any software in your computer because you can access these tools from any device connected to Internet. This has made my life easier because I can edit, read and create documents on the go, pretty much from my mobile device.
All my documents stay in the cloud or in the OneDrive storage place that comes with Office 365.
Other apps that come with Office 365 are:
Calendar: to schedule meetings, events, tasks, get reminders and share appointments.
Delve: to get relevant information from the people you work with or collaborate with your work.
Dynamics 365: this is place to go to learn how to create your own business solutions using different apps within Dynamics 365 such as Artificial Intelligence apps and Mixed Reality Apps.
Flow: this is one of my favorite tools to automate processes within the different tools I use. For example with Flow you can create a process that will send you an email every time a user completes a survey created with Forms. Or you can create a process that will enter data into a SharePoint list every time another trigger event occurs. You can design your own flows or processes depending on what you want. The great thing about this tool is that you can connect different apps in Office 365 so they can be part of the automated process.
Forms: this tools is perfect to create surveys, forms, to get data from users, or even for short quizzes. You can share your forms with any user even if they don't have access to Office 365.
Outlook: this is a great email tool that I also use for my calendar, to save my emails and keep them organized in folders.
People: this tool is to organize in one place all your contact, friends, team and colleagues.
Planner: this tool looks like having a dashboard with post-its or lists of tasks. You can share your planner with your team to get some collaboration going.
PowerApps: this one of my favorites too, because with this great tool you can build your own mobile app!!! What??? Yes, that's right, and you don't need to be a programmer.
SharePoint: this one is also really awesome to build a site like a website where you can grant access to others so they can collaborate and add content to the page. You can also add a chat functionality, documents, images, videos. It is perfect for collaboration among team members.
Stream and Video: with these tools you can share videos.
Sway: create presentations or interactive reports.
Yammer: this great tool will help you create your own social media page but for corporate or work. It looks like Facebook and will also let you create groups similarly as it occurs in Facebook. Get some informal collaboration and chat going with Yammer 🙂
How can I use Office 365 for training?
How you can already see, with these apps briefly explain above there are many possibilities to share content, create surveys, quizzes, share multimedia elements, have social media functions, create mobile apps, automate processes and so much more.
If you don't have a Learning Management System and you have a small team that requires training, eLearning and some reporting functionalities, then you could address those requirements with the different tools offered in Office 365.
For example, you could create a SharePoint page for your course or your different courses. In that page you can add a section for chat to allow your learners participate in forums, social learning and discuss specific topics or questions prompt by the instructor.
Additionally, you could create your course in an authoring tool like Articulate, export your course for the web and load your course in OneDrive. Your learners can access the course if you share the link in the SharePoint site. The link is provided by OneDrive.
If you don't have an authoring tool, then you could still build your course by creating content in the SharePoint site, adding videos that you can save in Stream or Video apps, add animations or make an interactive presentation with Sway.
The last activity of the course could be a form that learners have to complete which is actually a quiz, with some scenario type of questions to make it more meaningful and then with every form submission you will get notified in your Outlook email. This form and the automation process of notification can be done with the apps Form and Flow.
If you want to run reports on course completion or how learners performed in the assessments, then you could export the data from Forms and see their submissions. Or every entry into Forms could be imported into a SharePoint list using an automation process that can be easily configured using Flow.
To add more aspects of social learning you could create a Yammer group for your learners so they can engage in a more informal communication about the topics of interest. Additionally, your learners might want to collaborate in creating the content themselves in a SharePoint site that could be a final project.
There are many possibilities of managing in an organized and engaging way your learners without having a Learning Management System and simply using the different tools available with Office 365.
Office 365 Tools & Training
Office 365 has a training center where you can learn the basics, use the templates and learn very useful tips to save time and get the most out of the tools. I would recommend following the 6 simple steps where you will start from creating and saving, and you will progress to setting up your mobile apps and trying new things with their not so famous tools that are really powerful.
There are also lots of tutorials in LinkedIn Learning and in edX.
I would also highly recommend you try to do as many courses as possible from the online training site for educators, where you will master how to use all these tools for the classroom.
Office 365 Support
For inquiries or issues you can't fix yourself, then you can contact them by explaining your issue in their website or you could search in the community page. I'm sure the majority of the issues will be already covered in the community site 🙂
How much does it cost?
If you are planning to use Office 365 as a platform to manage education solutions and provide training to your staff or team, then I would suggest you get a license with Microsoft 365 Education and you will get the tools suited for the classroom. Also, you will get discounts on devices that your students can benefit from.
They also have case studies and campus solutions that could help you to get more ideas about the uses of Office 365 for learning and development activities.
There are also different plans, for home use, small business, personal, bigger businesses, education, students, etc. Visit their price and find the plan that has the tools you need, but prices start from US 5$ per month per user for business accounts. So it is not too expensive.
Summary
You can see there are many tools we can use to maintain our training activities organized and to create great learning solutions without having a specific learning management system platform. These solutions are ideal for the classroom and small teams you need to provide training for.
Additionally, Office 365 is so easy to use because I'm sure you have already used some of its tools, so when you start using you will find everything familiar 😀
Don't be nervous and try all the different apps, explore, visit the community and create your training environment with Office 365. You will be surprised of how many cool things you will be doing in no time.
I hope you found this post useful.
See you next time,
Thais 🙂