Blockchain in Education – Possible Applications of this Technology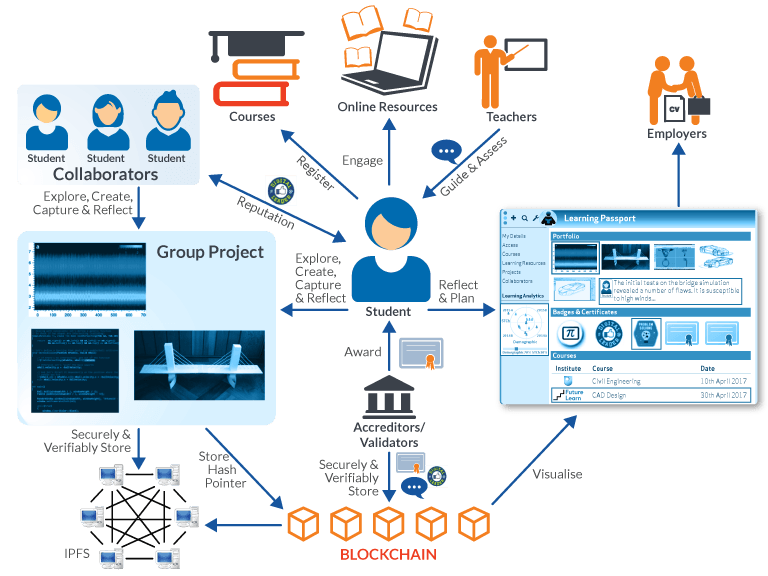 It really fascinates me how technology is changing and impacting the education field. It's so exciting to imagine the tools and resources educators and other professionals in the training sector will have to analyze and put more efficiencies in place. In this post, we will discuss the technology of blockchain in education.
Yes, that's right. Blockchain is not just related to bitcoin and cryptocurrencies. It also has applications in education. Let's discover more!
What is Blockchain?
Blockchain is a system in which a record of transactions are maintained across several computers that are linked in a peer-to-peer network.
A blockchain is a time-stamped series of immutable record of data that is managed cluster of computers. These computers are around the world and are not owned by a single entity. They are owned by lots of individuals like you and me, located everywhere.
Each block of data is secured and bound to each other using cryptographic principles (chain).
Blockchain was invented by Satoshi Nakamoto in 2008. But one interesting thing is that Satoshi Nakamoto is a name of an unknown person or a group of people who developed bitcoin and authored the bitcoin white paper, which are the beginnings of this technology.
So what is Blockchain so special?
Because the blockchain network has no central authority, it is a democratized system. A blockchain is a simple way to pass information from A to B in a fully automated and safe manner.
One party initiates the transaction process by creating a block. This block is verified by thousands, perhaps millions of computers distributed around the net. The verified block is added to a chain, which is stored across the net, creating not just a unique record, but a unique record with a unique history. Falsifying a single record would mean falsifying the entire chain in millions of instances. That is virtually impossible. (Blockgeeks Inc., 2016).
So we have 3 very attractive points, one is that the network ownership is open to everyone who wants to be part of the network and not owned by a central organization (decentralization). The other key point is that transactions cannot be altered (immutability), which adds extra security and validation to the operation. And finally, data can be tracked (transparency).
What is Bitcoin?
Blockchain became familiar because it first known application is Bitcoin.
Bitcoin is the most popular digital cryptocurrency that cuts out traditional financial institutions by allowing peer-to-peer transactions.
Why blockchain transactions are immutable?
Data is written to the Blockchain only by consensus and, once written, it can never be changed. You can only append data to the existing data, you can never change what has already been written to the Blockchain. The image below illustrates the immutable nature of blockchain (Walsh, n.d.).
Blockchain Applications in Education
OK, so by now, you might be wondering how all this blockchain stuff can be incorporated into education. To understand what uses blockchain can have in education or in any other field, it is good to keep in mind that any transactions between parties is a target application for blockchain technology.
Let's see some applications of this technology in education:
Digital Certificates, transcripts and student's records: with blockchain technology these records will be immutable and can be validated and evaluated by anyone who has access to the blockchain. Since the records are stored in a shared distributed ledger, the certificate can still be validated even if the organization that had issued it no longer exists.
Replace paper: with the use of digital records, transcripts, diplomas, certificates and any other documentation, blockchain will replace paper. We don't need to worry anymore about losing or keeping our records in a safe place. Employers, institutions, students and any other interested party could request access to see particular records and because they are immutable they have higher credibility. There won't be a need to certify copies. Everything will be validated and consolidated in blockchain format.
Credentials: all our immutable certificates and credentials will be stored in blockchain and can be retrieved from our digital wallets at any time. If an employer needs to verify that we actually have specific accreditation they could easily check the blockchain and confirm that we have the skills we claim to have.
Accessibility of records: educator, students and any individual can see and have access to credentials and records from a digital wallet, which basically is an application in our smartphones.
Tuition fees: some institutions are starting to accept cryptocurrencies as a form to pay the course fees. If you have some money in your wallet or if you are into mining cryptocurrencies, why not use that digital money to pay for your fees 😀
Validation of information: in 2018, MIT together with the blockchain startup Learning Machine used bitcoin blockchain to issue more than 100 digital diplomas of its graduates (Coin Idol, 2018). There won't be illegal or fake diplomas or certificates. If you earn your degree, you will get that data in an unchangeable blockchain that you can share with future employers in your resume or LinkedIn account.
Motivation for students: a form of reward to students could be with tokens. The better they perform in a course, the more tokens they could get. These digital tokens can be implemented with the blockchain technology. In some cases, students could use the tokens earned to pay for more courses, the tuition fees or to move those tokens to their digital wallets and convert them into a cryptocurrency. What better way to engage students than this? 😀 knowing they will be able to earn money for better performance will definitely motivate students.
Connection between students and employers: with the use of these digital tokens that will be part of a blockchain, students with more tokens could be in a leader board or look more appealing for future employers who will be searching for the more competent candidates. One way to measure how skilled candidates are will be by verifying how many tokens students achieved during their courses.
Rewarding high quality content: similarly to the token system to reward students, we could use this model to reward educators, instructional designers and content creators. The better the content and the course, the more tokens students will assign. These tokens will again be converted into cryptocurrencies that educators can cash out or maintain in their digital wallets.
One existing platform that is using the token model as incentives based on the blockchain technology is Tutellus. You can read more about their platform in this paper.
Do I need Blockchain technology?
Are you getting excited with blockchain technology but still not sure if you could implement this type of solution in your organization? Check this decision tree developed by IEEE Spectrum or alternatively read this other paper:
In Summary
As you can see, blockchain technology not only will impact the financial sector with cryptocurrencies, but it will also find its applications in many industries that have transactions between 2 or more parties with the requirement of keeping records safely.
When you think of this technology from that more generic perspective you can that there is so much potential!
We have seen some possible uses of blockchain technology in education and hopefully implementation of these solutions will be open to maintain the "democratized" nature of blockchain. Hopefully in the near future we will be able to see more and more students and organizations educating, getting more people skilled and accredited in different areas so we can have a more prepared workforce without going bankrupt for paying very expensive university degrees. Education needs to be accessible to the entire world population, that's my dream at least 😀
What do you think about blockchain in education?
Feel free to leave your comments below and thanks for reading the blog 😀
See you next time,
Thais
References
Athena Team. (2018). [Web]. Retrieved from https://blog.athenagt.com/blockchain-in-education-and-5-use-cases-to-observe/
Blockgeeks Inc., (2016). [Web]. Retrieved from https://blockgeeks.com/guides/what-is-blockchain-technology/
Coin Idol. (2018). Three aspects of blockchain use in education. [Web]. Retrieved from https://coinidol.com/three-aspects-of-blockchain-use-in-education/
Peck, M. (2015). The future of the web looks a lot like the bitcoin blockchain. [Web]. Retrieved from https://spectrum.ieee.org/computing/networks/the-future-of-the-web-looks-a-lot-like-bitcoin
Peck, M. (2017). Do you need a blockchain. [Web]. Retrieved from https://spectrum.ieee.org/computing/networks/do-you-need-a-blockchain
Walsh, N. (n.d.). Will blockchain technology disrupt education? [Web]. Retrieved from https://www.learnovatecentre.org/will-blockchain-disrupt-education/