eLearning Brothers – Review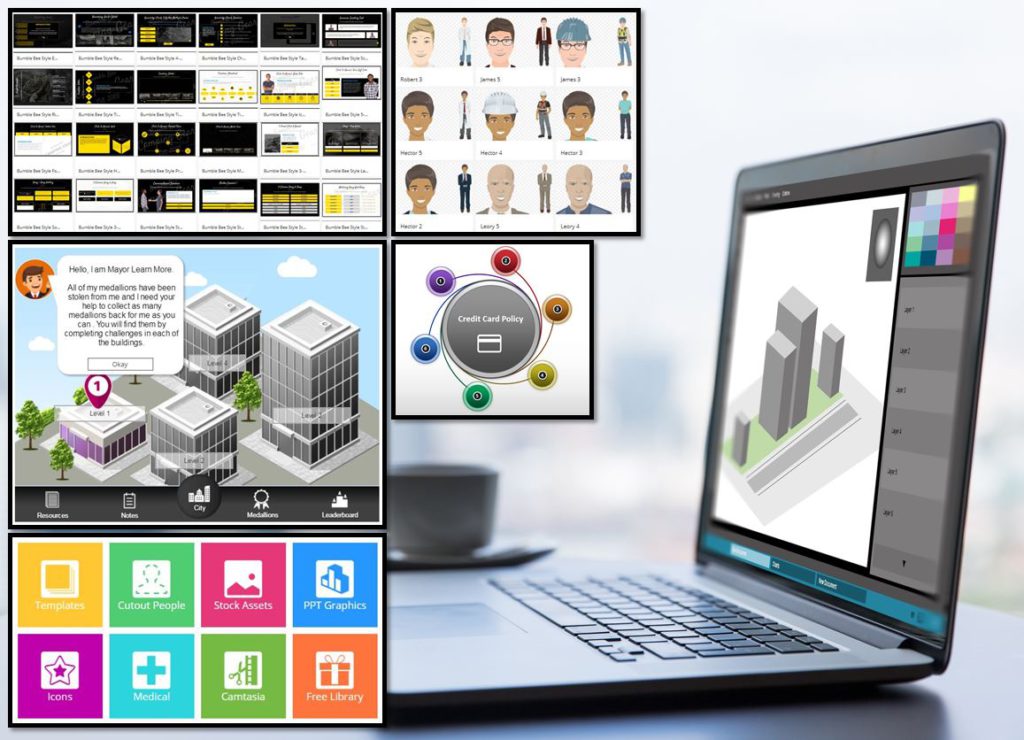 In a previous post, Richard Mayer on Multimedia Learning, I wrote about the importance of enhancing our learning solutions with attractive multimedia elements that will not be used only for decoration purposes, but also they will add value for motivation and engagement. To include beautiful multimedia elements, I normally use eLearning Brothers.
eLearning Brothers is a library of assets I use a lot to develop eLearning solutions. In this post, I will explain how I use it and I'll do a review of eLearning Brothers, so you can make an informed decision before buying your membership.
eLearning Brothers at a Glance
Name: eLearning Brothers.
Website: https://elearningbrothers.com/
Price: from free option to individual libraries that cost around 300 USD. They also have payed packages that start from 1500 USD or more depending on your options.
Owners: eLearning Brothers.
What is eLearning Brothers?
The way I see it, eLearning Brothers is a website packed with lots and lots of resources to develop eLearning. It has templates developed in Articulate Storyline, Camtasia, Adobe Captivate, PowerPoint and Lectora.
You can simply download the templates, populate them with your content and voila, you have an eLearning module with nice interactions, graphics, colors and layout ready to be used by your learners.
Their templates must be developed by graphic designers because they look fantastic. Additionally, they have entire sets of slides that form a theme, so you can download an entire theme and you will have slides with drag-drops, quizzes, branching scenarios, cover pages and different types of slides to organize your content. All of them, aligned to a particular theme and color branding.
They also have games, icons, audio, characters, videos, GIFs, interaction builder and different multimedia elements that are downloadable from their site and are ready to use.
The Good
The library has a lot of resources and they keep adding more and more templates, images and different digital assets.
They deliver webinars and articles about eLearning, trends, learning strategies, tools and tricks good for instructional designers and eLearning developers.
Their templates are so well-designed, you don't need to worry about branding or colors. They even provide the fonts for each theme.
It saves me so much time to download resources ready to use, so I can concentrate more on my content, interactions and learning strategies.
They have free templates, access to some resources for free and also a free trial if you want to try the full packages. The free trial period is 7 days and in that time you can download up to 10 assets from their different libraries.
The Bad
The only negative I can think of, is that it is a little bit expensive for instructional designers that work on their own as freelancers, or for educators who don't have a budget for this. On the other side, the first time I got my subscription, they offered me different libraries at no extra cost. I ended up getting a good deal. So, it is good to negotiate a little bit after your free trial to get the best from their packages at a price you can afford.
They have also a game arcade with really good games that have leader boards and allow you to track learners' performance. But this comes with an extra cost.
Who is eLearning Brothers for?
This service is for eLearning developers and instructional designers without graphic design experience who need to develop good-looking courses but don't have the time to create templates, graphics, images and other multimedia elements.
It is also for educators and creators of face-to-face presentations due to the massive library of PowerPoint assets and other images that are perfectly suitable for professional presentations.
eLearning Brothers Tools & Training
They have webinars that run almost every week or twice a month with topics that are relevant to this field of eLearning. I frequently attend to their webinars because they help me to stay up to date with design strategies, technology for educational purposes, and how to create engaging learning solutions.
The facilitators of the webinars are authorities in the field with so much knowledge and experience. I even register the webinars that I attend as part of my professional development, because they are really valuable.
Additionally, if you can't attend the live webinars, which is my case due to the time difference, they will send you via email a link to the recording and extra resources discussed during the session.
eLearning Brothers Support
They offer support through the chat windows but they work on office hours, so for people in Australia or this part of the world, can be tricky to get support this way. You have to organize a good time for both to connect.
They also offer support through your account manager, via email, with their tutorials or with articles from their blog.
eLearning Brothers Price
There are different options. You can subscribe and only use the assets available in the free account.
Other options are:
Individual Libraries: cost around 300 USD. If you go this way, I recommend getting the "Template Library" that includes the eLearning templates that are a good resource to start with.
Asset Library Package: 1500 USD. Includes: cutout people, eLearning templates, stock assets, PowerPoint graphics, icons and all the support (webinars, tutorials, source files).
eLearning Brothers (eLB) Master suite: price to be discussed with account manager but it can start from 1500 USD and includes all the items from the asset library package plus the training arcade and customizable courseware.
How do I use eLearning Brothers?
I use the templates built using Articulate Storyline, especially the ones that are branching scenarios that have ready the interactions and cutout people on them. I just create the logic, content and feedback of the scenario and populate the template.
I also use a lot the PowerPoint graphics to organize content, and then in Storyline I add buttons or markers to let learners interact with the graphic to reveal information.
I haven't used the templates for games, but they look very professional and easy to customize with my content. This is one challenge I have for myself, to build a game using one of their game templates for a quiz or a knowledge check activity for learners.
I also use the assets from eLearning Brothers on face-to-face presentations, documents and for images in this site 🙂
My Final Opinion on eLearning Brothers
I rank this product with 80 points out of 100. The reason for this score is price that I think is expensive for freelancers, educators and small organizations. And also, because now we have the challenge to create new multimedia elements such as animations, video explainers, Augmented Reality (AR) and Virtual Reality (VR) which are not doable with eLearning Brothers.
If you want to create learning experiences with the technologies mentioned before, then you will need other platforms to do it, which means adding other costs to the development of courses.
So, at the end it all depends on what you need to do and what resources and budget you have available. If you are starting with the development of eLearning, then you should start with the free assets of eLearning Brothers, download some templates, play with them and create eLearning. The free membership doesn't expire and you will still receive updates and invitations to attend the webinars for free.
If you want to develop eLearning solutions but you are really busy, you have many projects on your hands and no time to create images, nice interactions, branding and graphic design, then you could get the "Asset Library Package" membership. This package will you all the resources to save time during development so you can concentrate on learning strategies and content.
If you still need to develop quality eLearning but you don't have the budget to get the Asset Library Package, one alternative is to get an individual library like the "template library" that is cheaper (around 300 USD).
Other option is to use the library from eLearning Art. They are another provider of the same service, with a smaller library but they have more flexible packages starting from 180 USD per year, which makes it very attractive.
If your priorities now are on developing VR/AR, animations or videos then you won't find those resources here, at least not at this stage. I think they will incorporate something around these technologies because in a recent conference they shared a tool to develop VR. So they might be analyzing tools to create other types of learning experiences.
I hope this review was helpful and will guide you to make an informed decision if you are thinking on getting this subscription.
What do you think? Would you like to give eLearning Brothers a try? Feel free to leave your comments below.
See you next time 🙂
Thais